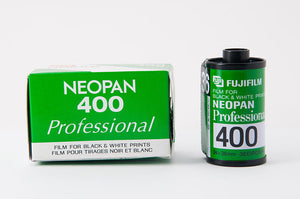 Fuji Neopan 400 135 36 Professional Black & White Print Film
Fujifilm
Regular price $10.00 Sale
Fuji Neopan 400 was, in our opinion, one of the greatest and most distinctive black and white emulsions ever produced. Shot at box speed, it can produce very smooth-grained images with lovely midtones and good contrast. When pushed to 800 or beyond, it develops a pleasing grain structure that gives your photo a painterly feel. The exposure latitude is excellent, making it a very forgiving emulsion for street photography or low-light photography.
It was tragically discontinued by Fuji in 2014, and unexposed rolls are now very hard to come by. Lucky for you, we bought a couple hundred of them before stock ran out. Their expiration dates are 08/2014, but we use this film regularly and haven't noticed any degradation. As with all expired film, it's possible your results will vary, so you may not wish to use it for images that absolutely must come out.
These are 35mm rolls with 36 exposures each. Made in Japan.